Thus saith the LORD; A voice was heard in Ramah, lamentation, and bitter weeping; Rahel weeping for her children refused to be comforted for her children, because they were not.

Jer 31:15
Tears are falling
in the land of Israel. As I sit here in the comfort of my typical American home, I can't fathom what is happening in Israel right now. Grief stricken families are burying the dead as terrorized children find shelter in drainage pipes, safe rooms, basements anything that would shelter them from the concussion of a rocket they hear whistling over their heads. People cling to their family members praying as they hold their breath and listen for impact. I'm sorry I cannot imagine this.
My tears are falling as I think of all the contacts that I have made in Israel and for the Palestinian Christians that are caught in the crossfire. What must G*d think as He looks down from heaven on his creation.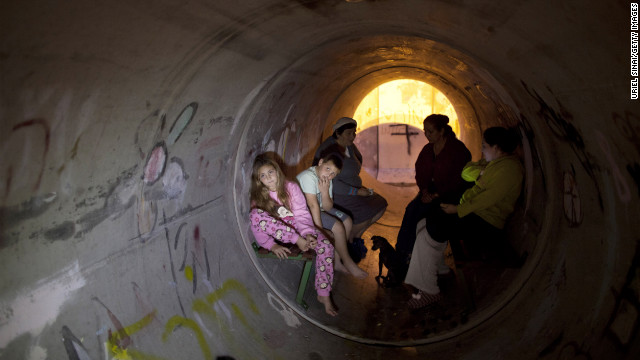 Jesus lamented over Jerusalem
O Jerusalem, Jerusalem, thou that killest the prophets, and stonest them which are sent unto thee, how often would I have gathered thy children together, even as a hen gathereth her chickens under her wings, and ye would not! Mt 23:27
Zechariah warned of the cup of trembling
The burden of the word of the LORD for Israel, saith the LORD, which stretcheth forthe the heavens, and layeth the foundation of the earth, and formeth the spirit of man within him. 2Behold, I will make Jerusalem a cup of trembling unto all the people round about, when they shall be in the siege both against Judah and against Jerusalem.Zech 12: 1&2
While I have to search for the terrible truth of what is happening in Israel, my media continues to talk about the election that is over, the President and his new horn-locking arguments with Congress and the Senate, but every so often I will catch a small ticker tape that something is happening in Israel. Really, this does not seem newsworthy? But the continued lies of our politics are?
No wonder the tears of Rachel were heard again in Matthew when King Herod ruthlessly slaughtered the children age 2 and under in his zeal to destroy any threat to his governorship.



In Rama was there a voice heard, lamentation, and weeping, and great mourning, Rachel weeping for her children, and would not be comforted, because they are not. Mt 2:18
I have no doubt that the weeping and wailing is sounding over the land of Israel again today. As the blood of the children of not only Jacob, but of Esau as well spill onto the ground, the blood cries out before G*d. Innocent souls caught in the crossfire of ancient wars that continue to culminate in our present day.